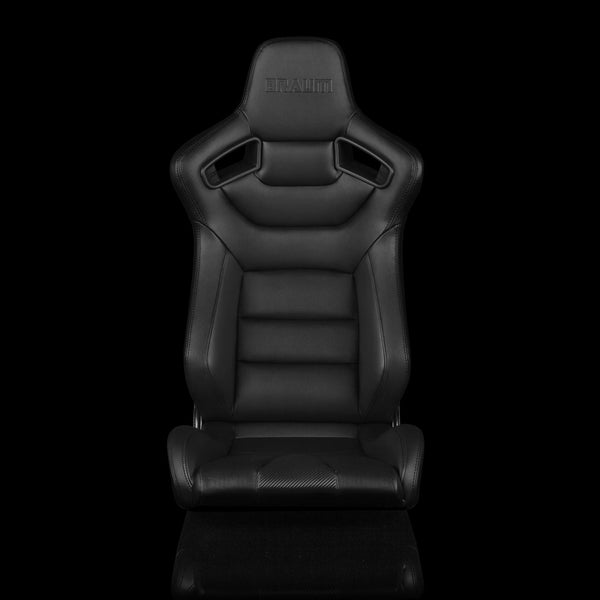 ELITE Fixed Back Bucket Seat
The ELITE & ELITE X Series are wrapped in thick, high quality suede or leatherette in a sleek, aggressive, race-inspired shape. The result is an understated yet unmistakable silhouette that is at the same time both understated and conspicuous. Spectators will be left scratching their head over their OEM look and aggressive aftermarket appeal. Fixed back structure for maximum rigidity and compact design for small vehicles.
The ELITE & ELITE X Series are exclusive, all-new fixed back racing seat from BRAUM Racing. These seats are perfect for those who want to improve the looks, comfort and stability of their seats without sacrificing practicality. They feature a strong, lightweight tubular frame and injection molded foam for the ultimate combination of comfort, performance, and durability. The bolsters are pronounced and strategically shaped without being intrusive, so you can stay locked in and enjoy your drive without dreading the discomfort of ingress and egress that a fixed bucket seat would impose. The firm, high density foam provides excellent support while its heat and pressure sensitivity allows the cushion to soften and comply with your body's shape for a more customized fit.
Strong, lightweight steel tubular frame
Fixed back construction for maximum rigidity
Bottom Mount Style
Injected Molded Foam
Universal Sliders are Included 
Perfect for narrow interior vehicles
Vehicle Specific Seat Bracket REQUIRED! (Sold Separately)
Fits up to 38" waist comfortably
Net Weight approximately 23.2 lbs (Without Slider & Bracket)
Sold Individually
Limited Lifetime Warranty
For more information on custom order please contact us at bespoke@braumracing.com
Please read the Terms & Conditions before purchasing. 
PRODUCT FITMENT
BRAUM Racing does not guarantee the size fitment for any seats, harnesses and/or universal products due to varied vehicle interior dimensions and configurations. Please use the product dimensions provided to compare with your existing layout to determine fitment. BRAUM Racing will not be held liable for incorrect assessments regarding fitment.