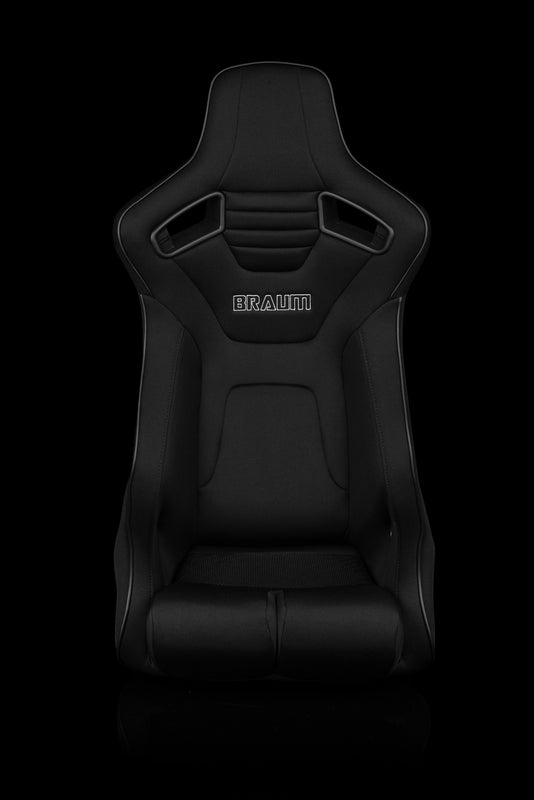 ELITE-R Fixed Back Bucket Seat
These ELITE-R Series fixed back seat offer BRAUM Racing's typical combination of style, support, and comfort, but in a form factor well suited for the 5'10" and above crowd. But make no mistake—the seats' long shoulder bolsters are designed to accommodate shorter drivers as well; along with gentle thigh bolsters, they provide the perfect balance between the support you demand at the track and the comfort you need on the street. With our fixed back bucket seat design, any corner on the track will be handled with absolute precision and accuracy, while the injection molded foam, with its goldilocks-firm cushioning, provides the comfort you need for your long commute.
Strong, lightweight steel tubular frame

Injection molded foam

2 color options

Side Harness slots & Anti-Submarine slot

Fixed Back 

Faux carbon fiber fabric backing

Bottom & Side mount style (will need vehicle-specific seat brackets)

Comes with 1 seat and dual lock slider for front-back adjustment

25 lbs. (without bracket or sliders)

Fits up to 38" waist

Limited Lifetime Warranty

For more information on custom order please contact us at bespoke@braumracing.com
Please read the Terms & Conditions before purchasing. 
PRODUCT FITMENT
BRAUM Racing does not guarantee the size fitment for any seats, harnesses and/or universal products due to varied vehicle interior dimensions and configurations. Please use the product dimensions provided to compare with your existing layout to determine fitment. BRAUM Racing will not be held liable for incorrect assessments regarding fitment.