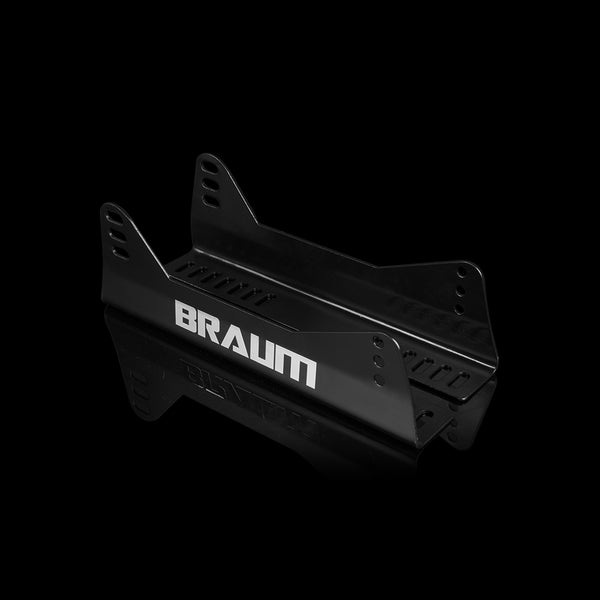 Universal Side Mount Bracket
BRAUM Steel Offset Universal Side Mount
The BRAUM Side Mount is an "L" shaped bracket sold in pairs (left and right) used to install side mount seats. Side mount seats have the mounting holes on the side of the seat rather then the bottom so a Side Mount or similar product is required for installation.
The BRAUM Steel Offset Universal Side Mount is made from 1/8th inch thick steel which complies with FIA's required thickness, weighs approximately 3.5 lbs, and is powder coated black. These will fit Side Mount Seats offered by most seat manufacturers. The wider slots allow the Side Mounts to be compatible with most other seat manufacturers as well but we have not test fitted them all. The Side Mounts are made to bolt directly to sliders but have multiple slots for adjustability when direct mounting (eliminating sliders).
90 Degree VS Offset Side Mount
- 90 Degree Side Mounts are the most common type and should be used when the width of the sliders is narrower then the width of the seat so the sliders sit under the seat.
- Offset Side Mounts are less common and should be used when the width of the sliders is equal to or wider then the width of the seat.
- Either 90 Degree or Offset Side Mounts can be used when direct mounting without sliders.
DISCLAIMERS
- Sold as a left and right for one seat.
- Hardware is sold separately.